Many shrimp keepers don't understand the importance of filters for cherry shrimp tank. If you think we only need filters for purifying the cherry shrimp tank water, then you are wrong!
Filters have many other purposes too! And in this article, I am going to share with you everything I know about filtration for a cherry shrimp tank. I'll talk about why cherry shrimps need filtration, what are the 3 basic types of filtration, my favorite filters for cherry shrimp tank and lastly, tips for buying a cherry shrimp tank filter. But before going any further, here is my top 4 filter recommendations for cherry shrimp:
Matten Filter
Sponge Filter from Powkoo
Hang On Back Filter from Marineland
Penn Plax Cascade Canister Filter
As you can see, there are lots of things we need to cover in this article. So, we better get started!
Why Cherry Shrimps Need Filtration?
Many shrimp keepers often believe shrimps don't need any filtration. They think as shrimps are such small creatures, a heavy planted tank will suffice for their bioload and oxygen demand. This cannot be any further than the truth.
Filters for a shrimp tank isn't only for purifying the water. It does many other crucial jobs for the shrimps such as:
The first thing filters do is purify the water. Whenever you are keeping a living animal in the aquarium, it will create bioload. And you need something to process that bioload and keep the environment healthy for the living being. Without a proper filtration system, the bioload will start to build up and make the environment toxic for the animal.
If you don't have a filtration system, to cope up with the bioload, you'll need to do water changes almost every day or every other day. This is not sustainable as soon you'll tire yourself out. That's why we need a proper filtration system in the tank. If there is a proper filter in the cherry shrimp tank, you can extend the water change period to week or even bi-weekly routine. So, the maintenance gets a whole lot easier.
The sponge or filter media of the filter is a great source of food for the shrimps. The media accumulates the floating food particles over time and shrimps love to graze on these food particles. Also, the sponge grows micro-organisms over its surface. This is a great food source for the cherry shrimps.
Lastly, the filter media grows a beneficial bacterial colony over it with time. This beneficial bacterial colony is imperative to cycle the tank and keep the tank cycled. This bacteria break down the ammonia into nitrite and nitrate. They run the whole nitrogen cycle in the tank. Ultimately this creates a habitable environment inside the tank for the cherry shrimps.
So, I hope I've shown you enough reasons to invest in a good filter for cherry shrimps. If you are not convinced yet, go check out my other article where I explained in more detail why cherry shrimps need filtration.
Also, filters don't cost much. If you really want to create a good home for your cherry shrimps, you shouldn't leave filters out of your equation.
3 Types Of Filtration
Before we dive into the best filters for the cherry shrimp tank, we need to understand the basics of filtration. In this section, I am going to explain to you what are the 3 basic filtration types and which ones are mostly important for cherry shrimps.
Mechanical Filtration
Mechanical filtration is the process through which floating particles in the water are removed from the tank. In this filtration technique, the water is forced to pass through a filter media (i.e. sponge).
Consequently, while passing through the media, the floating particles (food particles, dirt, fish waste, etc.) gets trapped inside the filter media. This is the basic working principle of mechanical filtration.
The filter media can be many things. The most common media is sponge. There are others such as filter pad, floss, micron paper pleats, foam, etc. This filter media needs to be rinsed on a regular basis in order to keep the tank healthy and clean.
Never use tap water to rinse the filter media. Use the water from the tank. It is necessary in order to keep the beneficial bacterial colony alive in the media.
Shrimps definitely need mechanical filtration in their tank. However, the more important one for them is the biological filtration.
Biological Filtration
I have already explained the basics of the biological filtration. You already know that a beneficial bacterial colony starts to form over the filter media. This bacterial colony breaks down the toxic particles in the tank water into lesser toxic particles. This whole process is called nitrogen cycle.
What Is Nitrogen Cycle?
When there is living animal in your aquarium, their waste particles, uneaten foods, decomposed plant materials, dead organisms, etc. everything creates ammonia. Ammonia is deadly for not only shrimps, any type living being in the aquarium.
The job of the beneficial bacterial colony is to break down this ammonia into a lesser toxic chemical called Nitrite. After that, the nitrite is converted into Nitrate.
Compared to Ammonia, the last produce Nitrate is far less toxic for the shrimps. But that doesn't mean you can allow nitrate to build up in the aquarium. We do regular water changes in order to keep the Nitrate amount in check. Otherwise, Nitrate will slowly build up to an unbearable amount that can intoxicate the whole aquarium.
This is the basics of the nitrogen cycle and the drivers that run this cycle are the beneficial bacterial colony.
Chemical Filtration
As the name suggests, the chemical filtration removes unwanted & harmful chemicals from the water columns. There are specific chemical filter media that are used for this purpose. The most common chemical filter media is activated carbon.
Chemical filter media are mostly used in filters that come with a chamber (i.e. Hang On Back Filter, Canister Filter, Sump filter, etc.). This filtration is not super important for the cherry shrimps, but it is certainly helpful.
You need to be careful with chemical filtration as using the wrong filter media or using the wrong amount of them can cause other side affects in the shrimp tank.
Best Filters For Cherry Shrimps
There are many types of filters that you can use for a cherry shrimp tank. The most common one is a sponge filter. It is because sponge filters are cheap and works fine.
However, the one I like most for my cherry shrimps is a Matten filter. Matten filters are not as known as sponge filters or hang on back filters. In fact, they are not that much available in the fish stores to buy. I only know one place that sells authentic & reliable Matten filters for shrimp tank.
If you don't want to buy one, you can also make a DIY of your own Matten filter. There are lots of videos in YouTube showing how to make a Matten filter out of sponge and other regular household items.
Personally, I don't want to take that much of a hassle for a filter that doesn't cost much. Also, I am not that confident on my DIY skills. So, I like to buy from the professionals.
For shrimp tanks with other tank mates besides shrimps, I like to use a Hang On Back Filter. Hang On Back filter doesn't occupy any space inside the tank and they are not visible. Also, they come with a chamber which provides better filtration. So, if your budget allows, you can go for a Hang On Back filter.
Some shrimp breeders use canister filter in their shrimp tank. Personally, I think that's not necessary and an overkill unless your tank is 75 gallon or more in size. Mostly, canister filters are used in display or show tanks.
Now, I am going to talk about my favorite recommendation under each of these filter types.
Matten Filter
According to me and FlipAquatics, Matten filter is simply the best filter for cherry shrimps. This filtration system is perfect for keeping as well as breeding shrimps.
The thing that makes this filter stand out from the other is the large surface area! Matten filter provides the largest surface are for bacteria to grow. It also grows micro-organism over the surface which is a natural food source for the shrimps.
Here are the features of Matten Filter:
Very large surface area for growing a large beneficial bacterial colony
Ideal water circulation throughout the shrimp tank
low maintenance
low cost
suitable for larger tanks and commercial breeding projects
Thanks to the small PPI, the shrimps don't get stuck inside the foam
You'll get roughly 4 times for surface area than a sponge filter
Matten filters are not readily available at the stores or on Amazon. You can make one yourself or get one from FlipAquatics. I think FlipAquatics offer the best quality Matten filter in the market. I'll advise buying from them instead you trying to make one.
At FlipAquatics, the Matten Filter is made of 100% durable and shrimp safe foam. Their Matten filters are proven to work in breeding projects. In fact, it was found that the survival rate of baby shrimps spiked through the roof after using their Matten filter.
The Matten filter comes with a Lift Tube which creates the ideal amount of water flow throughout the shrimp tank. The water current flows from top to bottom which is ideal for dwarf shrimps.
As the lower portion of the lift tube sits just above the tank bottom, water from the very bottom of the tank flows towards the top and creates the perfect circulation.
Sponge Filter
If you can't manage a Matten filter, go for a sponge filter. Sponge filters are effective too for breeding and keeping shrimp tank. However, you'll need to make sure the filter is appropriately sized for the tank. Generally, I take the largest one I can afford.
This is because, the larger the sponge filter is, the more surface area it will offer for beneficial bacterial colony to grow. It'll also grow more micro-organism for the cherry shrimps.
Moreover, an undersized sponge filter won't be able to properly circulate the water throughout the tank. So, get the largest one you can afford.
I love the one from Powkoo. It has double 10 layer sponge design which offers superb surface area. This filter also does a pretty good job of mechanical and biological filtration. The dual sponge offers larger surface area than a single sponge filter. It quickens the cycling process of the tank as well as keep the shrimp tank cleaner & healthier.
This model is suitable for fish tanks up to 30 gallons. All you need to do is connect the air line tube between the air inlet of the sponge filter and the air pump. Then simply turn ON the air pump and the filter should start filtration immediately. As the filter runs on Air Pump, your tank will get pretty good aeration too!
Maintenance is also pretty easy. All the parts are detachable. You can simply take off the parts, clean them in 'Tank Water' and put the filter back on.
If you want to know more about this sponge filter and check out the latest price on Amazon, click here.
Hang on Back Filter
If you are keeping other tank mates in the tank beside shrimps, a sponge filter won't be able to cope up with the bioload. In such a case, you'll need a Hang On Back filter.
I love HOB filters for the following reasons:
HOB filters come with a chamber. So, you can customize the filter media if you want. It also provides better filtration.
In the chamber, you can put chemical filter media like bio-balls or activated carbon. Chemical filtration is not possible with a sponge or Matten filter
The filter is not visible and it doesn't use any space inside the tank. So, your cherry shrimps will get to enjoy the full tank space.
I don't like HOB filters for the following reasons:
There is no filter media inside the tank for micro-organisms to grow. So, the cherry shrimps can't enjoy grazing on the sponge.
The inlet power of the pump can be too powerful for the baby shrimps and they can get sucked inside the chamber. However, you can prevent that by covering the inlet pump with a thin layer of foam or sponge.
There are many HOB filters available in the market. I like the Penguin model from Marineland.
This HOB filter from Marineland comes with a rotating bio-wheel. This rotating bio-wheel technology is excellent at biological filtration.
Your tank will be filtered in 3 distinct stages: mechanical filtration, biological filtration as well as chemical filtration.
Also, the filter comes in 5 different GPH settings so you can easily choose the one that suits your shrimp tank.
If you want to check out the latest price on Amazon, click here.
Canister Filter
As I have mentioned earlier, I think canister filters for cherry shrimp tank is a bit overkill. These are the most expensive ones among all the filters mentioned in this article.
Canister filters are generally used for show tank and they offer the most supreme filtration. You can definitely go for one if you have the budget.
Canister filters don't sit inside the tank. You'll set them below the tank. It has a larger chamber than HOB filter. The chamber is generally divided into multiple stages for providing multiple filtration: mechanical filtration, biological filtration, and chemical filtration.
If you are willing to get a canister filter for your shrimp tank, you can get the one from Penn Plax Cascade Model. It is currently one of the most popular canister filter models in Amazon. There are certainly many reasons for this such as:
The filter comes with 3 media baskets for providing the ultimate filtration
Can be suitable for tanks up to 100 gallon! The GPH rate is 265
You can use customized filter media if you want
360 degree rotating flow valves make the setup even easier
You can easily prime the filter with its push-button primer
Multiple sizes are available. So, you can choose the one that fits your shrimp tank
Here are the things I don't like about canister filter in general:
Not suitable for beginners as setting up can be quite tricky
Generally lot more expensive than other filtration systems
Overkill for using in a cherry shrimp tank
Like the HOB filter, there is no filter media available inside the shrimp tank for micro-organism to grow
If you are not new to fish keeping and have a good budget, you are more than welcome to use a canister filter on your shrimp tank. You can check out the Penn Plax Cascade Aquarium Filter on Amazon by clicking here.
How To Cycle Cherry Shrimp Tank Fast?
Here are some tips you can follow to cycle your cherry shrimp tank much faster:
Instead of setting up a new filter, you can set up an old sponge filter that has already been running in another tank. This at least doubles the cycling speed because the old sponge filter already has a good amount of bacterial colony over it. So, the whole nitrogen cycle process jumps start!
Run your tank with a new filter. After a couple of days, take a old sponge filter that has already been running in another tank. Squeeze the old sponge filter over the new tank. Instantly the tank will get cloudy. This is good. The cloud is just all the bacteria settling over the new tank.
To kick start the nitrogen cycling process, you can add some hardy fishes such as comic goldfish, bristlenose, plecos, etc.
In order to keep the tank always cycled, adding snails can be a great option. I always like to keep Malaysian Trumpet Snails in my shrimp tank. Snails provide the necessary bioload that keeps the beneficial bacterial colony alive.
Tips For Buying A Cherry Shrimp Filter
While you are preparing for buying a filter for cherry shrimp tank, keep in mind these tips. They might help you out a lot:
If you are using a HOB or canister filter, always cover the inlet with a thin layer of foam or sponge. Otherwise, the baby shrimps can get sucked inside the filter which will be deadly for them. You'll start to see less and less shrimps everyday but can't figure out what is happening.
Always choose a filter that is appropriately sized for your shrimp tank. You can go oversize for the tank, but certainly not under. An undersized filter will not be able to properly circulate the water throughout the tank. So, the tank will not be filtered properly.
If you just want to breed shrimps in your home, there is actually no need for getting a canister filter unless you really want one. On the other hand, if you are preparing for a showcase tank, you can certainly use a gorgeous canister filter.
Keep in mind that filters need regular maintenance. You cant just buy a filter and forget about it for 6 months. I regularly clean my filter at least once a month.
When cleaning the filter media, never use tap water. Always use the water from tank. Otherwise, you may accidentally kill all the beneficial bacterial colony on the filter media. If it happens, the tank's nitrogen cycle will get to zero and it'll have to be started all over again.
If you are not sure how much flow rate you should be aiming for, get a volume calculator. It'll make the calculation easier for you.
When installing the filter for the first time, make sure to run the filter media under clean water for a few minutes. It will remove any type of metal additive from the media. Metal additives can be deadly for cherry shrimps as they are very delicate to water parameters.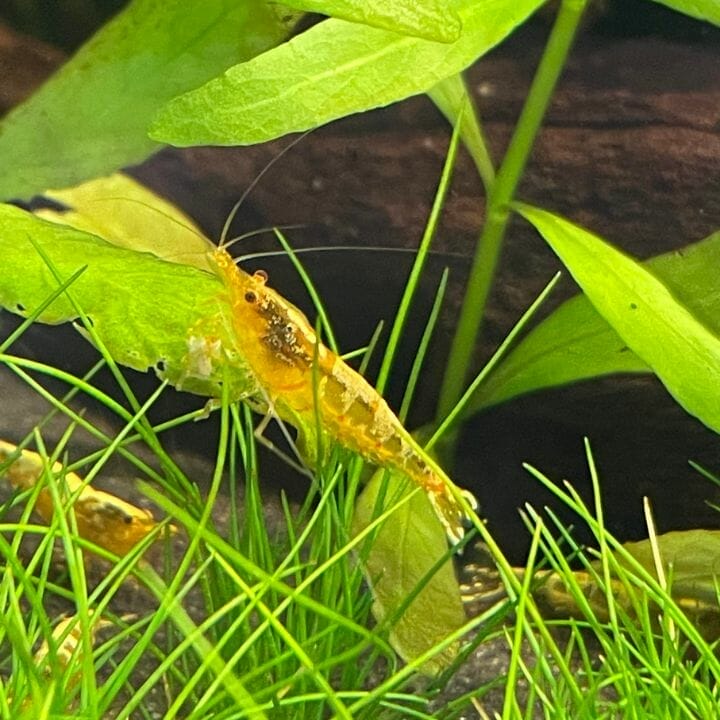 Frequently Asked Questions
Conclusion
So, this is my detailed guide on filtration for cherry shrimp tank. I tried to share everything I know so that you can offer nothing but the best filtration to your cherry shrimps.
For a cherry shrimp tank, I don't believe you have to buy the most expensive filter. For many years I've only used a sponge filter and got good breeding from it. So, don't limit yourself thinking you need to spend $100 on a filter.
Just go through my recommendations and buy one that falls within your budget. You'll be good to go then!