A pet store seems like the best business project for an animal lover. It's meaningful and flexible. But that's not enough for you to invest in a start-up. After all, many pet stores do struggle to make ends meet. So, is a pet store profitable enough
Pet stores have proven to be profitable even during recessions. The average profit margin on pet products is 30% to 40%. But if you can develop a niche within the pet industry, you can enjoy at least 50% of the profit margin on every item you sell.
Almost 86 million households have one or more pets. And the market size is projected to grow by 5% every year till 2028. That means there is still room for new businesses, including yours, despite the competition. So, if you want to get a chunk from this billion-dollar industry, keep reading.
Key Takeaways
An average pet parent spends around $600 to $700 per month on pet food, medicine, and other commodities.
Almost 90% of pet items you see on the market have at least 40%-50% profit mark-up.
A pet store can withstand the test of an economic downturn (historically proven).
Making an online presence can boost your store's revenue by 51%.
pet industry profit margins 2023 (From Public Pet Companies)
In 2023, different segments of the pet industry are experiencing varying profit margins. Here are some insights into the profit margins in the pet industry:
These insights suggest that the pet industry is diverse, with different segments experiencing varying levels of profitability and margins. Companies are adopting strategies to optimize their operations and address business risks to enhance their profit margins in 2023.
Is A Pet Store Profitable?
"You can never go wrong with pets." A pet store is still in demand as it was a decade ago. According to reports, the pet industry is worth about $76 as we are writing this article. But we could only track 1533 pet supplies stores within the U.S.A. That means there's an ample scope for newbies who are passionate about animals.
If that doesn't convince you, here's another surprising stat report.
Every pet owner in the U.S.A. spends around $750 on dog products each month. The number is a little less for cats (around $662). What's surprising is that the spending has consistently gone up since 2013. The average spending was $403 back then.
Assuming the spending will be even higher in the following years is perfectly safe. Even though 40%-60% of that budget is kept for vet visits and medicines, there's still $200-$300 left. This amount is spent on treats, grooming kits, toys, clothes, various gadgets, etc. Considering almost 70% of Americans are pet parents, you will have lots of customers visiting your store daily.
To be more profitable, having a specific niche in any industry helps. For example, if you are good at cooking, produce your own treats and market them. Businesses that promote unique products for a specific customer segment are pretty much fail-proof.
However, it's absolutely okay if you want to start an average pet store without a specialty. Then, you must focus on choosing products your customers look for and offering more variety than your competitors.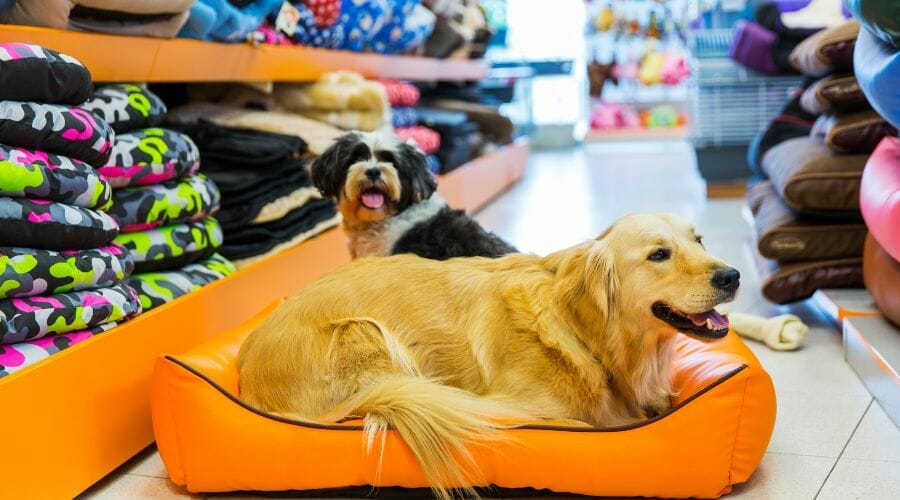 How Much Profit Can A Small Pet Store Make?
We automatically think of Petco, PetSmart, or Chewy while discussing a profitable pet store. These pet businesses are extremely successful, no doubt. But we can't take them as our role models. Since your pet store is most likely to be a private and local shop, we should deal with real numbers & facts.
An average pet store can easily put a 40%-50% margin on all items. For a living pet, the mark-up is even higher. For example, you have aquarium fish in the store. You can keep almost a 200% profit margin for some rare species.
Don't worry; the customers don't mind paying that much for adopting a "not-easily-available" pet.
Plus, the more knowledge you have regarding a specific animal, the more people will be willing to pay. They are also paying for your valuable tips & maintenance guide as an expert in the field. For now, let's just focus on pet supplies (and not real pets). Considering even a 30% mark-up, you can earn thousands of dollars from the starting month.
It's not just in theory. For example, Kristin Larsen, the owner of Diva Dog Bakery, started her store with only one product. However, she earned around $4000 a month during the biggest economic downfall in the U.S.A. It shows us how pet parents will always prioritize their pets despite a recession. She is earning more than $10,000 a month selling these treats.
We admit she has focused on a narrow niche. That's why you can't expect each of your store's products to generate $ 8,000 to $10,000 monthly. Some products are going to sell better than others. For example, a pet store doesn't sell too many pets per month to cover the operating costs. The majority of sales come from products people need after adopting a pet.
Nonetheless, it should be enough to generate $2000 to $3000 in revenue from a single product, considering you have so many options (unlike her).
Do People Still Like Adopting Pets From A Store?
Even though having animals in pet stores was pretty common almost 10 years ago, the scenario has drastically changed. People are more aware of "puppy millers." Animals coming out of these "mills" suffer from extreme cruelty. Unfortunately, due to the low price, most pet stores collect animals from such unethical mills. It allows the store owners to enjoy more profit.
However, people don't like adopting pets from such traditional stores anymore. There are even debates going around whether it's ethical to sell "animals" or not. That's why we won't suggest you start your pet store only with pets. You might ask, how do people adopt their pets then?
Well, there are shelters for street animals. They rescue & train the animals to be a pet. Families interested in owning a pet usually visit such centers and get their companion. Or, they choose online-based pet supplies like Petco.
The reason why Petco is profiting by selling pets is their focus on establishing themselves as an ethical supplier. They often raise their voices against big animal mills, hence gaining the trust of their customers.
That's why it can be a bit risky to depend only on pets for your start-up. Try to include other pet-related products to generate more monthly sales, at least during the initial phase.
7 Proven Methods To Boost Your Pet Store's Profit
Just because we have given an estimated profit doesn't mean your store will earn that much in the first month. Or, it can earn even more. Profitability can differ due to various reasons. Here are some ways to boost those numbers right from the first month.
1. Put Yourself Out There
According to the BigCommerce survey, around 67% of millennials prefer online shopping. An average American spends at least 5 hours every week searching for different products on the internet. That's your cue to make your pet store available on popular online platforms.
This small step can skyrocket your business within a short time. An online retail store sees 51% more revenue than a traditional brick & mortar store.
Apart from the revenue, it will help you target your customers better. Stores with a niche product don't do well without going online. We suggest you promote your store online. If you have the means, design a website and list all the items in your pet store. And congrats! You have increased your potential customer base from your neighborhood to the whole country.
2. Say No To Puppy Mills
The number one reason local pet stores are not generating enough revenue is due to choosing a bad supplier. The cut in supply cost doesn't help if you can't sell anything, right? People's perception of your store is your most valuable commodity. It's even more crucial for a pet business.
We are sure if you are an avid animal lover, you wouldn't like getting your supplies from the mills as well. That doesn't mean you have to depend on hobby breeders who are notorious for charging high prices for pets. One good alternative is partnering with nearby shelters. Renowned rescue centers help homeless animals and try to heal them from past trauma.
But there's only so much space. We are sure you will get a good deal by showing interest in common breeds the center is trying to eliminate. The purchase will be a bit expensive compared to the mills. But it will give you the ground to advertise yourself as an ethical pet seller.
3. Choose Your Location Wisely
The average spending on pet stores is comparatively higher for metropolitan areas. Next comes sub-urban areas and, finally, rural places like Alabama, Alaska, or Mississipi. That's why try to establish your store in an urban area where people's average spending is high.
However, choosing areas like New York City, Manhattan, or California has some demerits. First, New York's rent could be as high as $50 per square ft. We don't think you would be able to reach a break-even point easily with so much rent.
4. Don't Overspend
Starting small is the most profitable way of launching a pet business. Don't spend unless it's absolutely necessary. Please consider that you will have a hard time breaking even by following an average pet business format. Monthly sales of pets are unpredictable. And oftentimes, it costs a lot to feed and maintain certain breeds. Not knowing which animal will be sold next is a huge disadvantage of the pet business.
That's why you must keep the spending under control. Don't search for a big flat to start your business. First, try to come up with a place you can use for free or with minimal rent (through friends & family). Next, don't hire too many employees, thinking you will need them in the future. Try to work extra hours in your store and save the employee's salary. Stick with this mantra until your business booms.
5. Be Good To Your Customers
Do you hate dealing with people? Then, we have some bad news for you. A business, especially a pet store, depends a lot on your communication skills. As we have already said, trust is the key. And how will people trust you without consistent communication? We suggest you work on your 'talking' skills a bit. Luckily, there will be lots of opportunities to build real connections.
Pet owners frequently visit pet stores to get food supplies for their pets. Being friendly with them or helping them pick the right toy or food can increase customer loyalty.
6. Follow Popular Trends
Tracking popular trends can save you from picking the wrong products. For example, tea-cup dog breeds have become insanely popular on social media (TikTok & Instagram). That means you should focus on getting such breeds from your supplier. Pomeranians, chihuahuas & pugs are also growing in popularity because of how easy they are to carry around.
Not just pets, even accessories for pets can go viral on the internet. Come on. Have you forgotten about the ChomChom pet hair remover or the famous tug toys? These products became instantly a hit. You can add those products to your store since you already know pet owners love them.
7. Select A Product Category
There are hundreds of pet items you can choose from. At first, it's normal to get overwhelmed and pick different products. For example, you might think your store will do better if you have almost every kind of pet product people look for.
But the reality is slightly different. If you want to make a high profit, it's more beneficial to choose a specific product category and offer multiple alternatives for that.
Suppose you have chosen pet toys. We suggest you bring multiple options for toys (even more than your competitors). Having traditional dog toys imitating bones is not enough. Include training, teething & comfort toys.
The more varieties you can offer, the better. That's how you target a niche and build your store around it. Such businesses attract customers easily. Soon, you will notice the pet owners in your area are only buying toys from you.
But we understand why you might not want to take this route yet. It requires a lot of research. If your plan is to open a traditional pet store, it's better to have some items from almost every category.
Is the pet business booming in 2023?
Yes, the pet business is indeed booming in 2023. The pet industry is poised to grow significantly, with projections indicating substantial increases in market value. Here are some key points highlighting the growth of the pet industry in 2023:
Global Growth: The global pet industry is expected to swell from $320 billion to almost $500 billion by 2030, indicating a robust growth trajectory starting from 2023. (Source: Bloomberg)
US Market: In the United States alone, the pet industry is projected to achieve a total of $143.6 billion in sales in 2023. (Source: American Pet Products)
China's Market: China's pet industry is also experiencing a boom, with an estimated market value reaching 445.6 billion yuan in 2023. (Source: CGTN)
Pet Accessories Market: Globally, the pet accessories market is predicted to grow at a substantial rate between 2023 and 2028. (Source: Petfood Industry)
Pet Food Sales: Inflation has increased pet food prices in 2023, contributing to the growth in pet food sales.
Industry Trends: There are emerging trends in the pet industry, including the rise of pet supplements, the emergence of new product categories, and the development of high-end products for pets.
UK Market: In the UK, personalized pet products and services continue to be a firm favorite, indicating opportunities and trends in the pet industry. (Source: Noble Futures – Pet Industry in the UK in 2023)
is pet food business profitable in 2023?
The pet food business appears to be profitable in 2023, with several companies reporting increased sales and profits. However, the specific profit margin can vary depending on the company and other factors.
Here are some insights into the profitability of the pet food business in 2023:
These reports suggest that while there are profits to be made in the pet food business, companies also face challenges, and profit margins can vary. It is crucial for businesses to manage costs effectively and adapt to market trends to maintain profitability.
Before You Leave!
There are many branches in the pet business. If you want to start something unique, looking at traditional brick & mortar stores won't help. Instead, take a look at our article discussing 13 unusual pet business ideas. Who knows, you might find your passion project here. Best of luck!
Article link: 13 unusual pet business ideas to inspire you.